Poison (80ml)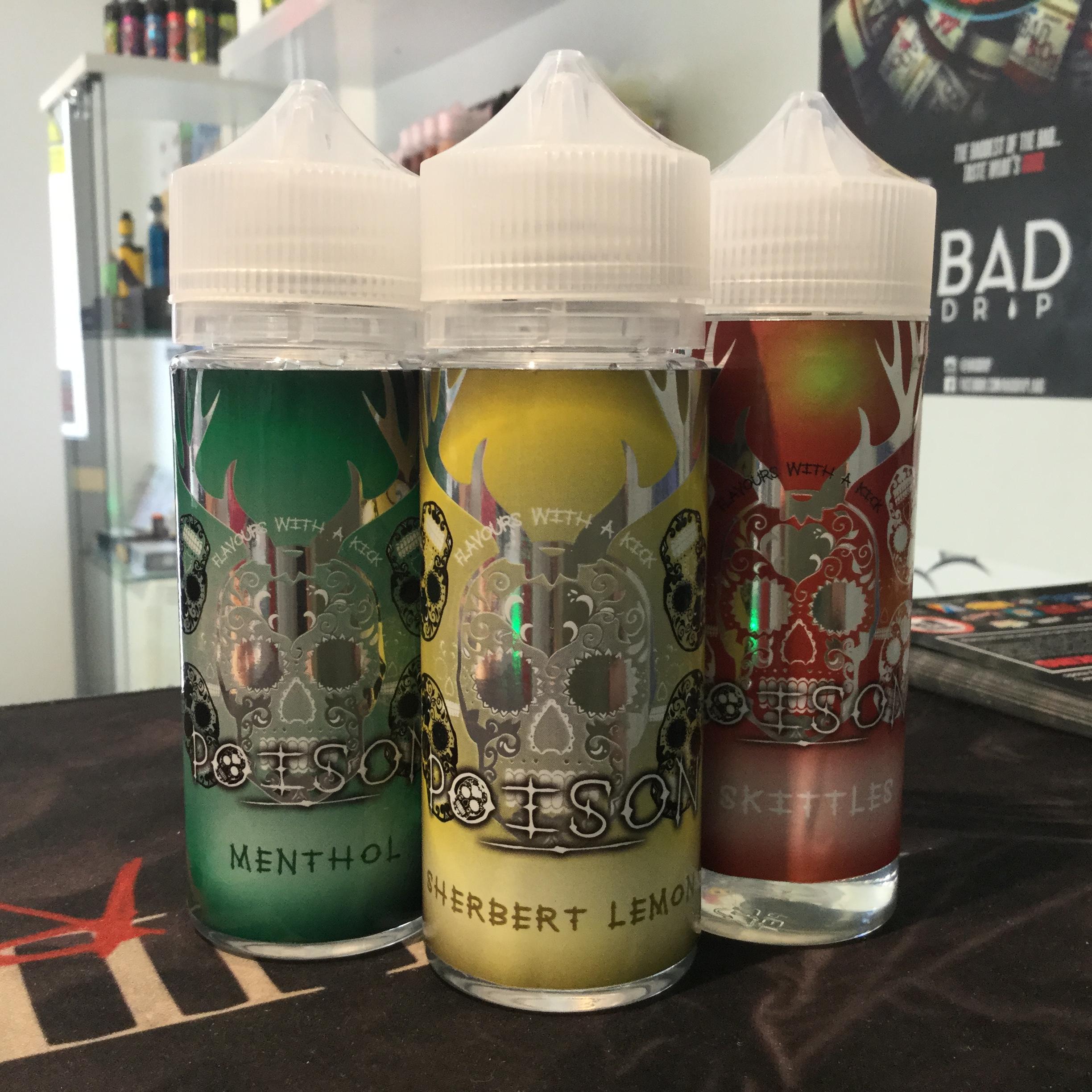 Fanta
A refreshing vape, perfect for a summers day with the taste of the classic drink.
Hznbrg
The Heisenberg e-liquid is made using a secret recipe that can only be described as the mother of all day vapes. You'll love the fruity undertone and a cool after sensation that will leave you wanting more and more.
Menthol
Fresh minty vape perfect to cleanse your palette or mix with your favourite flavours for a new twist.
Pinkman
Pinkman is jam packed with fresh grapefruit and a intoxicating blend of fruity citrus flavours. The end result is a fresh, vibrant flavour that will send your taste buds bonkers.
Red A
A complex blend of fruit flavours with a menthol twist. Red A takes sweet cherry, fresh grape and ripe raspberry flavours and whisks them into a perfect blended super fruit cocktail. In addition Red A is topped off with a refreshingly cool menthol blast.
Sherbet Lemon
A sharp citrus vape which will awaken your taste buds from the first vape.
Vimto
It really does taste like vimto. This fantastic 50/50 blended e-liquid has been carefully prepared to exactly match the well known drink. It is juicy, has a lasting aftertaste and will have you craving for more!
Strawberry Kiwi
An amazing blend of ripe strawberries and kiwi.
Strawberry Milkshake
A creamy taste of a succulent strawberry milkshake.
Custard
Everyone's favourite in a vape, a creamy dessert treat.
Mothers Milk
Smooth and creamy strawberry flavoured vape.
Skittles
Taste the rainbow with this fruity mix.
Black Jack
A flavour to take you back to your childhood.
Blackcurrant Ice
Ripe Blackcurrant with a refreshing cooling hit.
Red Laces
A perfect sweet treat of cherry lace sweets.
Black and Blue
Mix of blueberries, grape and aniseed.
Forest Fruits
A perfect mix of ripe forest fruits.
PG/VG Ratio
50PG/50VG
Please Note: This e-liquid will come with nicotine shot(s) which need to be mixed with the e-liquid to achieve the desired nicotine strength, remember to shake the e-liquid thoroughly once mixed.