Zeus Juice (100ml)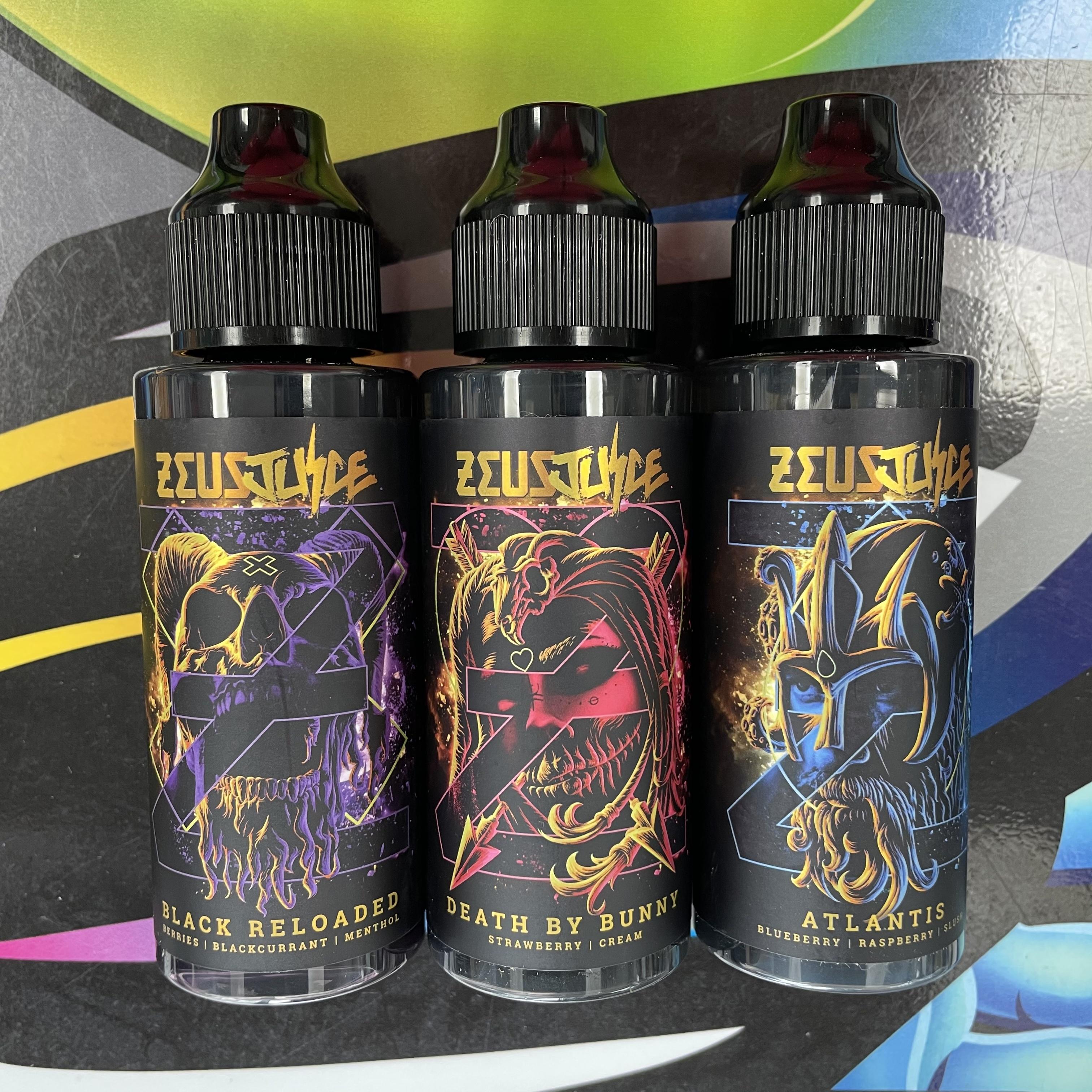 The Black
A great blackberry liquid with a hint of menthol on the exhale with a lovely tone of Blackcurrant following it.
Dodoberry 
A perfect mix of four berry's so good that they had to be squeezed to make this sweet juice.
Death By Bunny
Cream meets strawberry in this out of world experience.
Black Reloaded
A complex blend of berries with the perfect balance of anise and a touch of menthol.
Atlantis
Blueberry and raspberry slush will take you back to those days as a child.
Dimpleberry
A complex mix of fruits, Menthol and eucalyptus to give a satisfying all day vape.
Vermilion
A succulent cherry vape with a cool menthol exhale.
Typhon
Ripened raspberry, sour lemon combined with a freshly baked cookie.
Mortals Tooth Fairy
A mixed sweets flavoured blend.
Mortals Double Dragon
A ripe blend of dragon fruit, raspberry and menthol.
Mortals Hades
Freshly picked cherries, combined with cinnamon and menthol.
Mortals Hydra
A refreshing citrus mix with anise.
Mortals Monkberry
Fresh and juicy strawberries with banana.
Mortals Keewibera
Strawberry, kiwi and bubblegum flavour.
PG/VG Ratio
30PG/70VG
Please Note: This e-liquid will come with nicotine shot(s) which need to be mixed with the e-liquid to achieve the desired nicotine strength, remember to shake the e-liquid thoroughly once mixed.